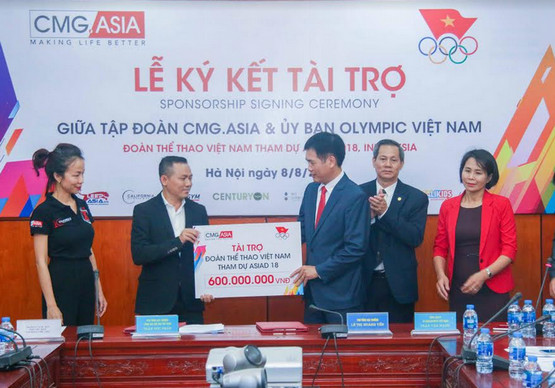 On the eve of the Asian Games, this afternoon (August 8, 2018) in Hanoi, the CMG.ASIA Group signed a sponsorship agreement with the Vietnam Olympic Committee for the Vietnamese Sports Delegation preparing to participate in the 18th Asian Games, held from August 18 to September 2, 2018, in Indonesia.
At the signing ceremony, the CMG.Asia Group announced a sponsorship of 600 million Vietnamese dong to be awarded to outstanding athletes of the Vietnamese Sports Delegation participating in the 18th Asian Games in Indonesia.
Speaking at the ceremony, Mr. Tran Duc Phan, Deputy Director-General of the General Department of Sports and Physical Training of Vietnam, stated: "At this Asian Games, the Vietnamese Sports Delegation will have a large number of over 350 athletes, focusing on Olympic sports. The goal of the VND is to achieve at least 3 gold medals; however, winning 1 gold medal at the Asian Games is very challenging. With practical support from the CMG.ASIA Group, the Vietnamese Sports Delegation will have added motivation to strive for high achievements at the 18th Asian Games. This sponsorship is a real source of encouragement to boost the efforts of the athletes to bring glory to our homeland."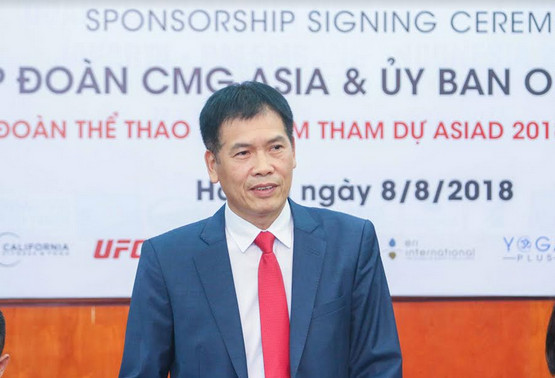 This is the third consecutive year that CMG.ASIA has been accompanying the national sports delegation. In 2016 and 2017, CMG.ASIA also sponsored the Vietnamese Sports Delegation with 1 billion dong annually.
CMG.ASIA is one of the leading conglomerates in training and coaching athletes participating in various sports events in Vietnam and around the world, such as the Iron Man 70.3 (triathlon), the 4 Desert Grand (a 1000km race across four deserts), One Fighting Championship (the largest professional MMA tournament in Asia), Muay Thai Fightnight, and Muscle Contest.
In addition to organizing sports events, CMG.ASIA has also organized and participated in many other meaningful activities to support the community, including humanitarian blood donation programs, California's charity runs with the stars, sponsorship of athletes participating in the Olympics, and the donation of training equipment to Da Nang Sports Training Center.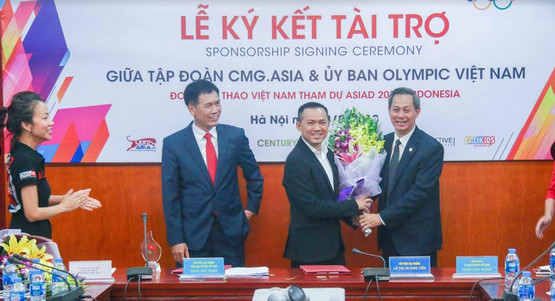 Mr. Phan Ngoc Huy, Deputy Chairman of the CMG.ASIA Group, said: "For CMG.ASIA, investing in the overall development of the national sports is a pressing need and aligns with the group's development direction. In addition to sponsoring the Vietnam Olympic Committee for the past three years, the group has also collaborated with the Muay Thai Association of Ho Chi Minh City in organizing Muay Thai Fightnight to nurture and develop young talents in the traditional sport of Muay Thai, as well as other sports and physical activities nationwide."
Read more: 1 billion VND Sponsorship for Vietnamese athletes in 2016 Olympics
Reference Source:
CMG.ASIA sponsors 600 million dong for the Vietnamese Sports Delegation participating in Asiad 18. [Online]. Available at: http://thethaovietnam.vn/the-thao/cmgasia-tai-tro-600-trieu-dong-cho-doan-ttvn-tham-du-asiad-18-365-300342.html. Accessed on June 29, 2019.