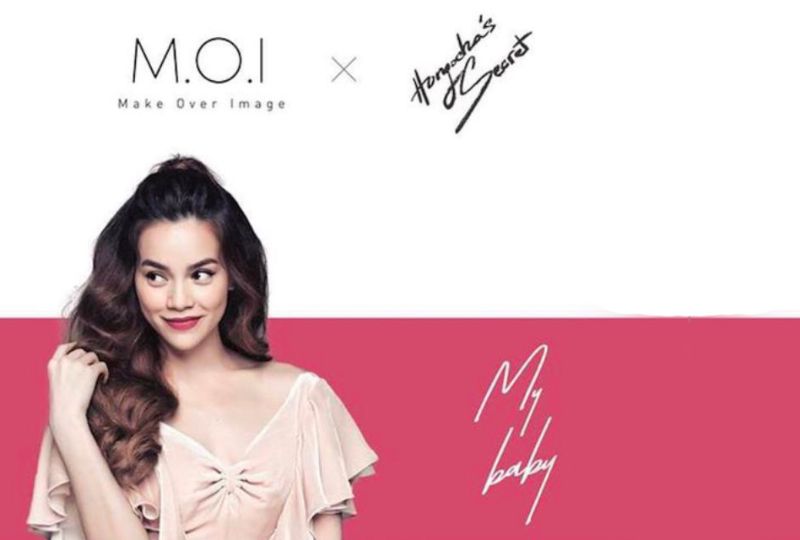 According to a report by Euromonitor International, Vietnamese brand M.O.I Cosmetics, co-founded by renowned figures Ho Ngoc Ha and Lam Thanh Kim, is the sole Vietnamese company to secure a spot in the top 10 cosmetics market share rankings from 2018 until now.
M.O.I's market share has experienced rapid growth, surging from 0.9% in 2018 to 3.2% in 2022, closely trailing the leading contender, Revlon. In this statistical assessment, the top 10 brands collectively account for 80.7% of the market, with most registering growth in 2022 compared to 2021.
Despite being a relatively young brand, M.O.I Cosmetics stands as the only Vietnamese company in the top 10 amidst an industry where foreign brands command an estimated 90% share.
In 2018, M.O.I officially debuted with its inaugural product line, the Hongocha Secret lipstick series. During this time, M.O.I's business model drew parallels with that of Kylie Jenner's in the United States (the youngest self-made billionaire globally with Kylie Cosmetics). The common thread between the two is that both brand founders are influential figures in the realms of fashion and beauty.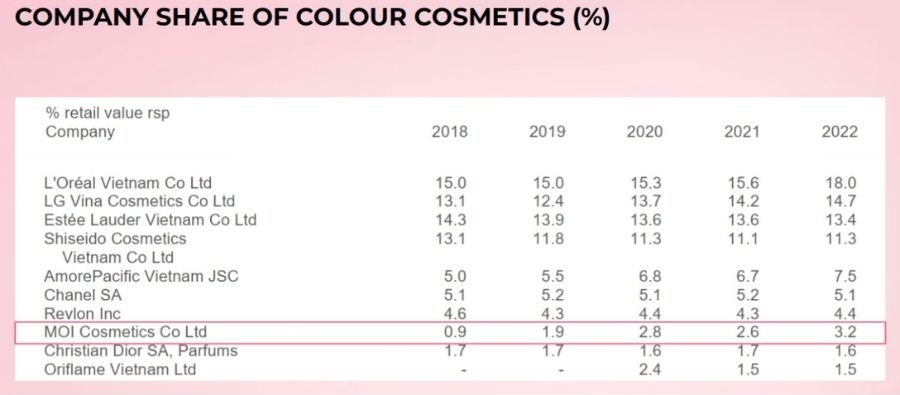 Source: Euromonitor International.
Certainly, Kylie Jenner enjoys international recognition. However, in Vietnam, Ho Ngoc Ha currently serves as a source of fashion and beauty inspiration for the majority of Vietnamese women. According to a report by Q&Me (July 2022), Ho Ngoc Ha holds the top position in the "top cosmetics influence" category.
"Differing from Kylie Jenner, M.O.I does not create products that focus on extravagance and differentiation in fashion. Instead, we produce quality, practical, affordable beauty products tailored specifically for the Vietnamese market," CEO Lam Thanh Kim remarked.
As evidence of this commitment, M.O.I faced numerous rejections and received responses from just one out of 50 emails in its efforts to access manufacturing facilities in South Korea before its official launch. The result of this journey was market acceptance, with M.O.I consistently selling out collections afterward.
Beginning with 30,000 lipstick units, M.O.I has expanded its product range to include 20 skincare and makeup product lines, with over 4 million products sold. The company has also established a network of 90 stores nationwide and partnered with thousands of distributors.
In a recent update, CEO Lam Thanh Kim revealed, "In terms of our journey, M.O.I has met expectations by successfully introducing various product lines, from lipsticks and liquid foundation to loose powder, face masks, cleansers, and toners. Regarding revenue targets, apart from 2021 when we operated for only about 6 months due to the Covid-19 outbreak, in other years, M.O.I consistently met expectations, achieving an average annual growth rate of 150%."
Currently, the flagship product remains their lipstick line; however, the product significantly altering many of M.O.I's business metrics is the Baby Skin Cushion foundation. This product has become a crucial contributor to the company's revenue over the past two years.
According to Lam Thanh Kim, M.O.I Cosmetics' cushion foundation has been well-received due to its suitability for the climate, skin tones, and skin characteristics of the Vietnamese people. To this day, this product exemplifies the initial goal of M.O.I, which was to research and develop products based on the specific traits of the Vietnamese population.
Experiencing remarkable growth, M.O.I Cosmetics officially turned profitable in 2019. This was the year when M.O.I successfully initiated its Series A funding round and partnered with the strategic investor, CMG.Asia.
In the outlined roadmap, the next milestone for M.O.I in 2023-2024 is the call for Series B funding to expand its market presence and develop more product lines. Towards the end of the previous year, the CEO of M.O.I disclosed ongoing discussions with potential investment partners.
Looking ahead to the next five years, M.O.I has set its sights on capturing 90% of the market share currently held by international brands, as only 10% of the cosmetics market share in Vietnam belongs to domestic brands.
Read more: M.O.I Cosmetics' journey from curiosity to 4 million beauty products sold