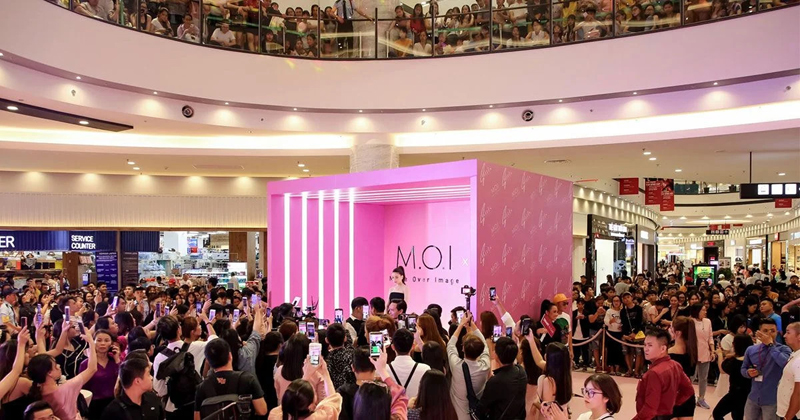 5 years ago, M.O.I Cosmetics first launched in Vietnam market. At that time, consumers knew M.O.I largely because of the name Ho Ngoc Ha. However, the brand has gradually asserted itself in different ways.
Referring to M.O.I Cosmetics, it is impossible to ignore the communication campaigns that have made the identity of the business. Taking advantage of the fashion and entertainment industries, the company continuously creates impressive collabs for lipstick collections. Effective communication is demonstrated through impressive intHành trình từ sự tò mò đến 4 triệu sản phẩm làm đẹp được bán ra của M.O.I Cosmeticseraction figures in collaborations with famous artists in Vietnam.
The Stars lipstick collection by M.O.I x Thanh Hang: 19,625,600 interactions
Love M.O.I lipstick collection by Thuy Tien: 12,636,200 interactions
Love M.O.I Tropical lipstick collection: 9,055,500 interactions
S.Girls by Huong Giang lipstick collection: 7,317,200 interactions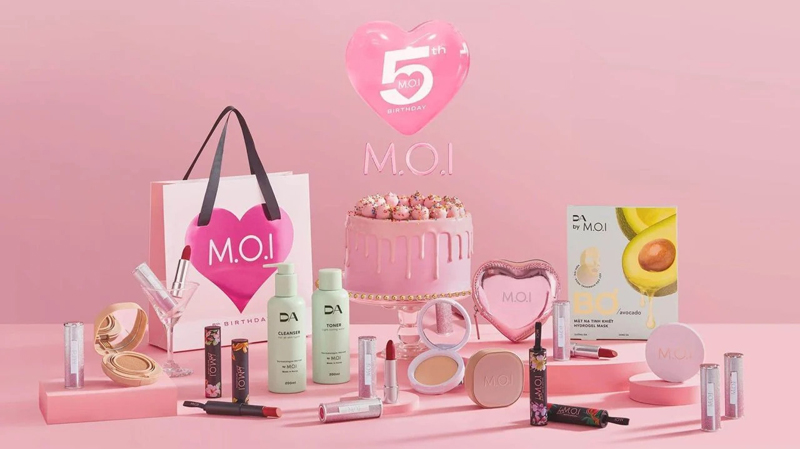 Starting with the pressure of the "celebrity" label, M.O.I Cosmetics invested significant capital to build international standard product quality and image, arduously found a quality manufacturing partner in Korea, directly battle with a series of market and social fluctuations… M.O.I Cosmetics' 5 year effort to prove the seriousness of activities in the domestic cosmetics market, that this is not a walk It's a luxury game, but it's a business that has a methodical investment, works seriously and has to calculate every step like any other business. The brand aims to compete for market share with foreign brands, wishing to conquer Vietnamese consumers with high-quality domestic products.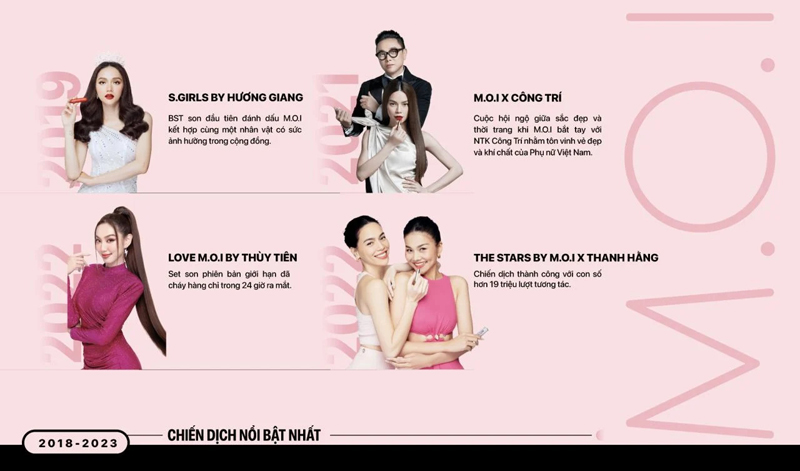 The results are optimistic business indicators. The rice mask product line has sold 1,500,000 products, the total number of which is up to 4,000,000 products by the end of 2022. In 2021, M.O.I Cosmetics will launch a new cosmetic brand DA by M.O.I. M.O.I's sales channel has a wide coverage with about 1,000 distribution agents nationwide, the brand's products are present in more than 90 stores of distribution systems such as Guardian, BeautyBox, Hasaki, MediCare, AB Beauty World , the system chain in the IPP airport… M.O.I also started to hit the road with continental awards, such as the Inspiring Brand award of the Asia Pacific Enterprise Awards APEA 2021.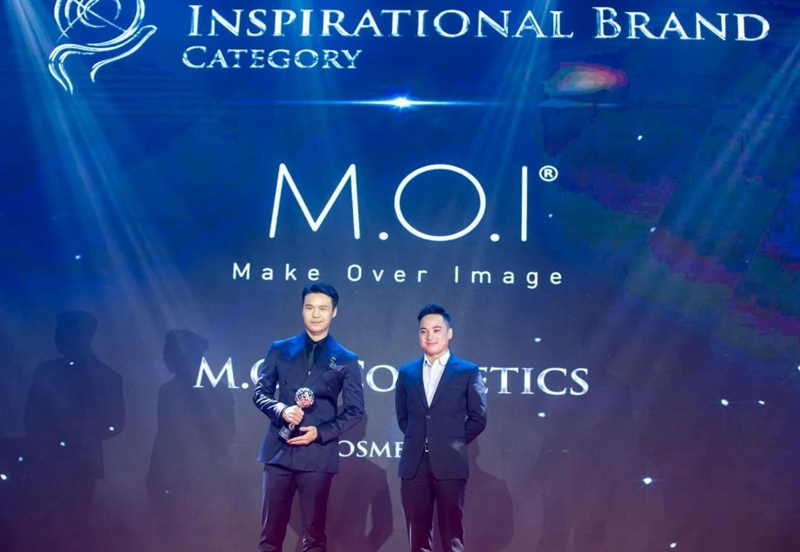 Before the 5-year milestone in the Vietnamese cosmetics market, we had the opportunity to interview the CEO of M.O.I Cosmetics – businessman Lam Thanh Kim, to better understand the journey of a young business breaking the waves towards conquering aspirations. mine.
* Do you think CEO Lam Thanh Kim at the moment is different from the time when he started his business?
If there was one word to express the difference, I would say I'm more stubborn. I think not only me, those who start a startup will have a lot of fears of their own, most of which are due to lack of experience. With a young business like M.O.I, problems arise almost every day. Having to deal with this fact for nearly 5 years has helped me analyze and evaluate the level of the problem, thereby seeing the true nature of the matter. I found myself becoming more resilient and calm, and no longer having unrealistic fears.
However, it would not be correct to say that I have nothing to fear in the present moment. I still have fears at this point but it is completely logical, has a specific shape based on the assessment of the data and the actual situation of the market. But it can be seen as a positive state to push myself to do better.
* The transformation of society has become more and more obvious recently, for example, changes in company personnel, pandemic, economic recession, competition of other companies… So in business, there are factors. forced you to suddenly change the business strategy of M.O.I?
From the time of its establishment, M.O.I has outlined a development roadmap within 5 years. But short-term plans will have to change with the market a lot, especially in recent years.
Typically, the adjustment of the launch time of skin care products is earlier than expected. As planned, M.O.I's rice mask line will be launched at the end of 2021. But when there was first information about Corona virus in Wuhan, we predicted the scenario if the epidemic occurred in Vietnam. and realized that the demand for makeup cosmetics is likely to decrease because people have to wear masks and isolate at home. From there, we decided to launch the skin care mask line to the market in April 2020.
The flexible adaptation during this period has brought positive revenue for M.O.I and helped businesses stay resilient to the impact of the pandemic.
* What is the moment when M.O.I has made great progress in the past time?
The time after the first collection – Hongocha's Secret lipstick line was born can be considered as a great step forward for M.O.I. At that time, BST was launched with the purpose of understanding market demand, so there were still many points that were not met well, creating mixed public opinion. The Board of Directors must sit down to consider the real needs of consumers and the advantages and disadvantages of the product. Since that event, M.O.I's products have later changed to suit the actual needs of Vietnamese people, the feedback from customers has been more positive and the sales volume has also increased more.
* What do you call the first 5 years of M.O.I and what stage will M.O.I enter in the next 5 years? Can you share your business development strategy in the coming years?
The first 5 years of M.O.I is a time of construction and development, the next 5 years will be an expansion for development. To be able to reach out and keep the growth rate of 150%/year, M.O.I is required to expand; expand on both customer segments and product categories to create more choices for consumers.
M.O.I's roadmap for the first 10 years is to create a product that meets the customer's life line and life stage. Lipsticks is the first product line, then will be makeup products from basic to advanced, followed by skin care, then will add hair care products and more intensive care products such as: anti-aging and support for the elderly, can finally return to products for mother and baby. That means M.O.I wants to be present on all stages, from the time you are born until you get old.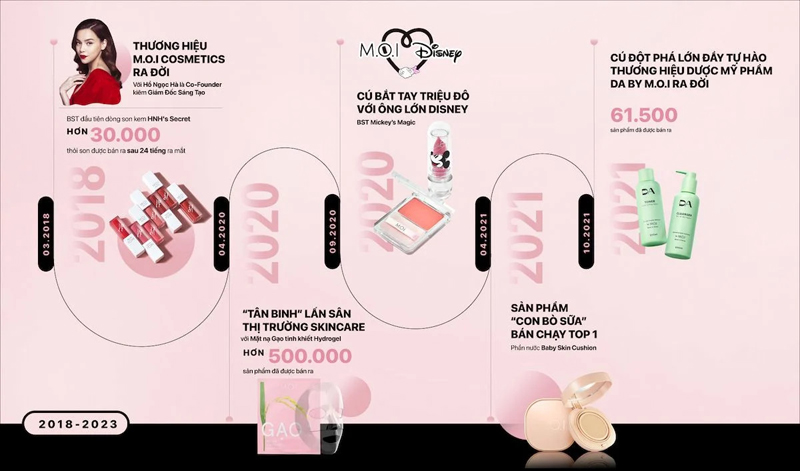 *Lipsticks can be considered as the main product line of M.O.I in the past time, there have been many BSTs born, so which collection brings the best effect? Is M.O.I planning to collaborate with any other characters in the near future?
The lipsticks combined with a certain celebrity always create media attraction and curiosity for consumers. Each lipstick collection for M.O.I has its own value and story. When it comes to the ability to create brand reputation, the M.O.I – Disney collection gives us the best brand value. BST combined with Cong Tri and Thanh Hang opens a more advanced customer file for M.O.I. Meanwhile, the collection with Huong Giang and Thuy Tien is very popular with the young customer segment. We are still cherishing many collaborative projects with influencers in Vietnam to continue our mission of inspiring beauty to more Vietnamese people.
* Many people judge product quality based on price and foreign goods are always better. What do you think about this? How do you strengthen consumer confidence in local brands?
If it is said that users prefer foreign products, it may be unfair to them because I see that there are currently many Vietnamese brands that are very positively received by consumers. Only about M.O.I, 4 years with more than 4 million products sold on the market, although the number is still quite modest, it cannot be said that Vietnamese people do not have faith in Vietnamese products.
We cannot force consumers to pay for products that they feel are not worth their money. The responsibility of Vietnamese brands is to make their products competitive enough to compare with foreign products, catch up with the needs and trends of the market and packaging designs, the quality must always meet the standards. the best.
* What is the difference in M.O.I's products to confidently conquer customers?
The first thing we think of is M.O.I's mission, not to sell many products, but to inspire many Vietnamese people who have the need to love and beautify themselves.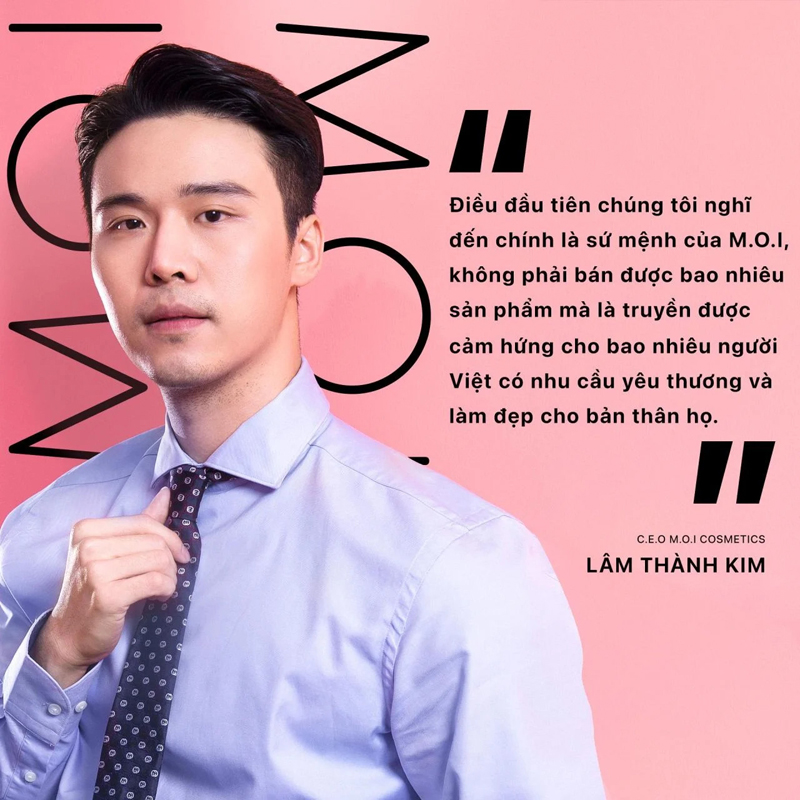 Founder – CEO of M.O.I Cosmetics – Lam Thanh Kim
Second, when we really want to compete with international brands, we have to put an international standard on our products. M.O.I always applies high standards to its product lines in terms of both packaging and inner quality. Fortunately, we have cooperated with the leading factories in Korea today.
Particularly with makeup cosmetics, except for beautiful packaging and suitable prices, color is a very important factor. M.O.I wishes to serve the majority, so the applicability of the product is our top priority. The selected colors are trendy, but also ensure in the level of convenience for any use.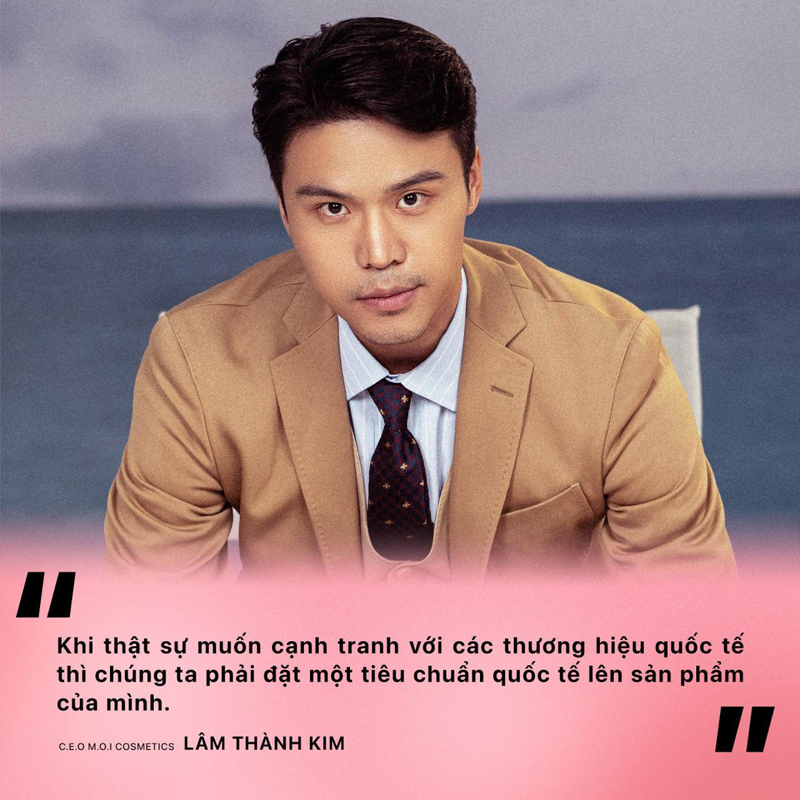 * Is the balance between price and product quality a difficult problem for businesses and how do you think about balancing these two factors?
M.O.I always tries to reach the best agreement with the manufacturer to balance the problem of cost and quality.
Of course, any option will have gain and loss. In addition to working with manufacturers, we also have to accept lower margins to reach more customers. But if an affordable price can make it possible for customers to experience international quality products, then we are ready, because if we can create a good experience, we will build a loyal customer base. and thereby can reduce marketing costs better.
* At the end of 2021, M.O.I launches DA by M.O.I. How do you operate these two brands?
Developing the skin care branch has been in the roadmap from the beginning of M.O.I. The engine we built initially was ready for that and just waiting for the right launch time. In 2021, DA by M.O.I is officially launched because at this time the M.O.I brand has created a certain trust with consumers.
DA by M.O.I specializes in skincare products, so reaching consumers will need more time. It's not surprising that a woman has 100 lipsticks, but each person only has one set of skin care products. Persuading them to switch from an existing product to testing a new product line takes a long time to build trust. But fortunately, the purchase return rate of DA by M.O.I is currently very high.
* Sustainable cosmetics are currently attracting many people's attention. Are M.O.I's products oriented in this direction?
With the skin care line DA by M.O.I, we always orient product development based on natural, benign ingredients and do not pose any risk to users. We are also researching and will launch vegan products in the near future. This can be seen as a move to get closer to the concept of sustainability.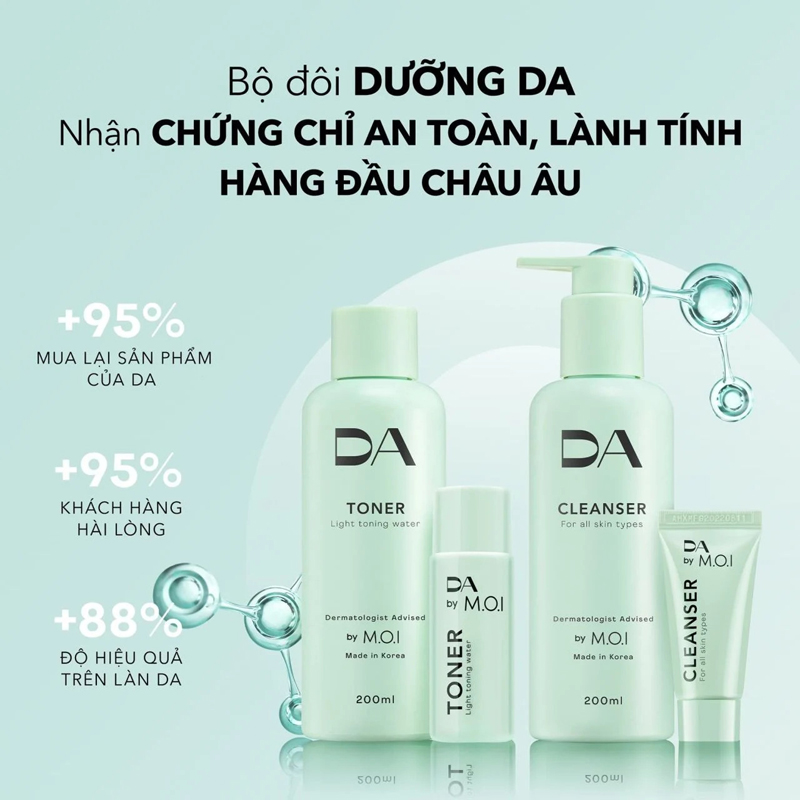 * Behind the success of a startup like M.O.I, is there any contribution? Do you want to find more companions to conquer M.O.I's big ambitions? If yes, by what criteria do you choose?
In 2019, M.O.I successfully raised Series A capital with investor CMG. ASIA and shareholder at that time was Mr. Randy Dobson, one of the first strategic shareholders of M.O.I.
Next in 2023, M.O.I will prepare for Series B funding round. We are happy that many large investment funds want to participate in M.O.I but we can't decide yet. M.O.I is still working to find the most suitable investor. Surely they must be strategic investors and besides, they must have experience in the beauty industry and technology to transform digitally with M.O.I in the fastest way.
Read more: How exactly do business advisory services help your business?
* After 5 years of working with M.O.I, what do you realize is the most important thing for your business right now?
In my opinion, besides the two core factors of products and customer experience, human resources are the key to the success of the business.
In the 5 years before the start-up, the human resources apparatus was very thin, often the Founder would concurrently hold some key roles in the company, but everyone will have a certain limit and face many concerns. When you have built a machine with people you can completely trust and they also have enough expertise to come up with solutions, no problem is insurmountable.
In terms of benefits for personnel, compared to international businesses and corporations, a startup cannot compete. The employees working at M.O.I are not necessarily because of the salary and bonus, but they want to contribute to building a brand that can become the pride of Vietnamese people in the world cosmetics market.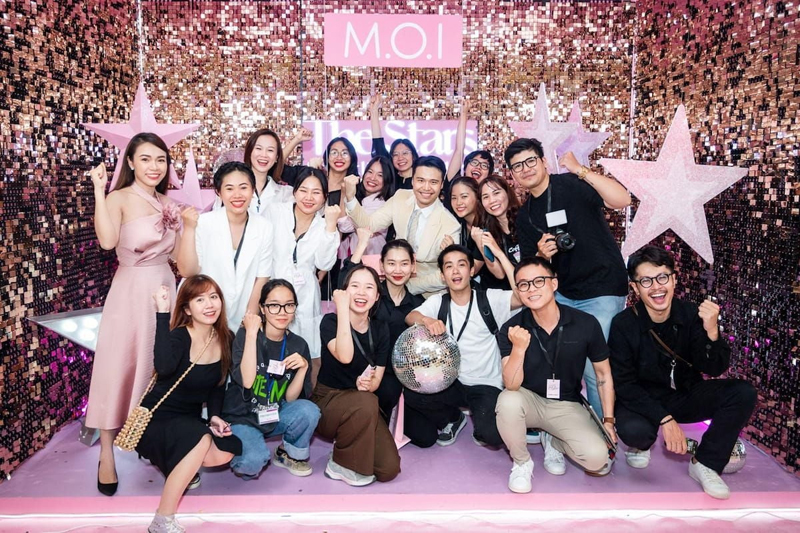 Young staff of M.O.I Cosmetics
* Through the achievements that M.O.I has achieved, what makes you most proud when talking about M.O.I Cosmetics?
Although less than 5 years old, the awareness of the M.O.I brand in the Vietnamese market is very good. This is not only valuable in business but also makes me feel very proud; especially because a Vietnamese brand is compared with international brands by Vietnamese people.
From the beginning, we wanted the product to follow international standards, so when we compare it like that, it means that we have succeeded in the initial positioning of the brand. It is a good sign when Vietnamese people start to see products made by Vietnamese people also create a great confidence for them.
Source: www.brandsvietnam.com