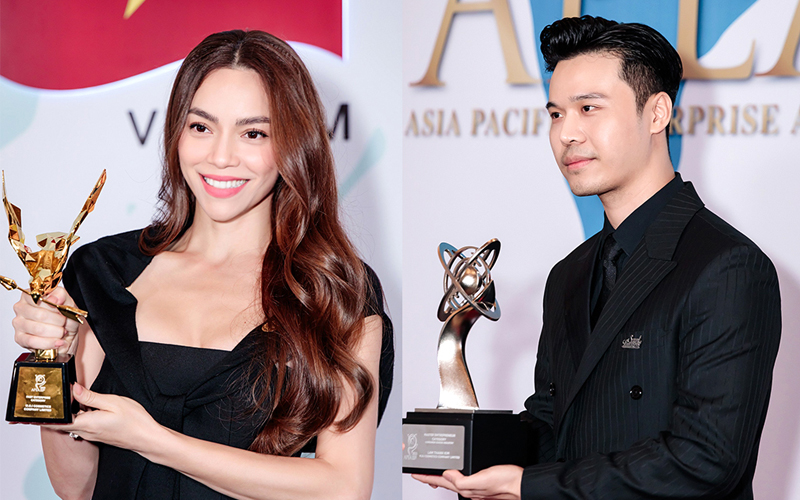 Five years ago, when it came to cosmetics brands, most Vietnamese people would think of Korean, Japanese, or European labels. Only a few in the upper echelons of society had the means to experience high-end international brands like Chanel, Dior, or Lancôme. However, today, in the arena predominantly reserved for foreign brands, a Vietnamese name has emerged, established and developed by Vietnamese individuals: M.O.I Cosmetics. The brand is progressively affirming its mission to become a source of pride for the Vietnamese people in the international cosmetics market.

I still remember, when it burst onto the scene in 2018 with a lipstick line bearing the name of Hồ Ngọc Hà, M.O.I was warmly welcomed with intense curiosity, resulting in a major hit with over 30,000 lipsticks sold on the first day of its launch. Subsequently, diverse opinions arose, and many viewed M.O.I as a fleeting venture by celebrities.
It cannot be denied that the Hongocha's Secret lipstick line was initially introduced to explore market demands, and there were many areas where improvements were needed. Nevertheless, the brand quickly regained its stability after thorough market research and strategic positioning, demonstrating its determination to invest substantially in its business. Co-Founder and CEO, Lâm Thành Kim, firmly states that M.O.I Cosmetics is not just a passing trend; rather, it's a well-invested business strategy with a clear mission and vision, reflecting the ambition to establish M.O.I as a reputable Vietnamese cosmetics brand, and a source of pride for beauty enthusiasts within the country.
The brand has left its mark with two awards at APEA 2023 – "Rapidly Growing Business" and "Outstanding Asian Entrepreneur."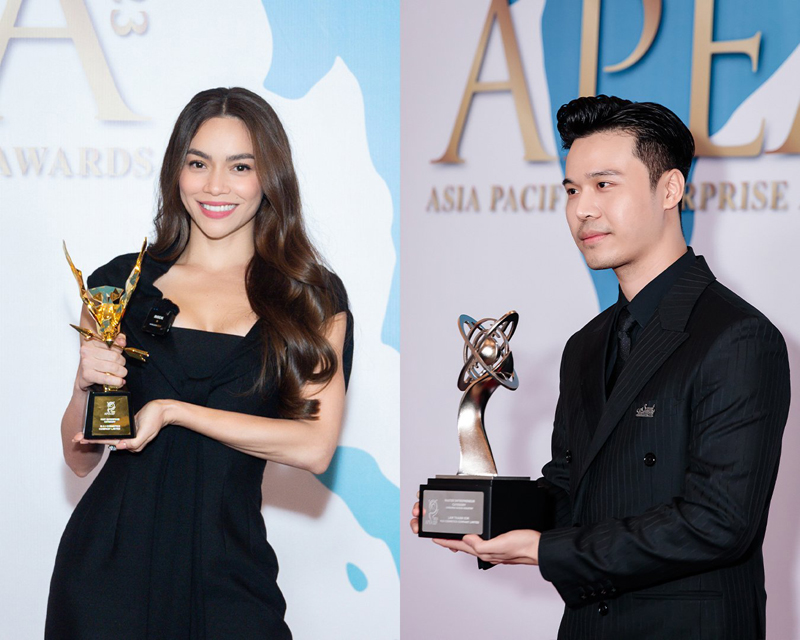 The two founders of M.O.I Cosmetics, Hồ Ngọc Hà and Lâm Thành Kim, jointly received the prestigious awards for "Rapidly Growing Business" and "Outstanding Asian Entrepreneur" at the Asia Pacific Enterprise Awards (APEA).
With relentless efforts and a commitment to sustainable growth over the years, the M.O.I Cosmetics brand has achieved a remarkable double victory at the Asia Pacific Enterprise Awards (APEA) in the categories of "Rapidly Growing Business" and "Outstanding Asian Entrepreneur." These prestigious awards were bestowed upon the Co-Founder and CEO, Lâm Thành Kim, in recognition of the brand's outstanding achievements.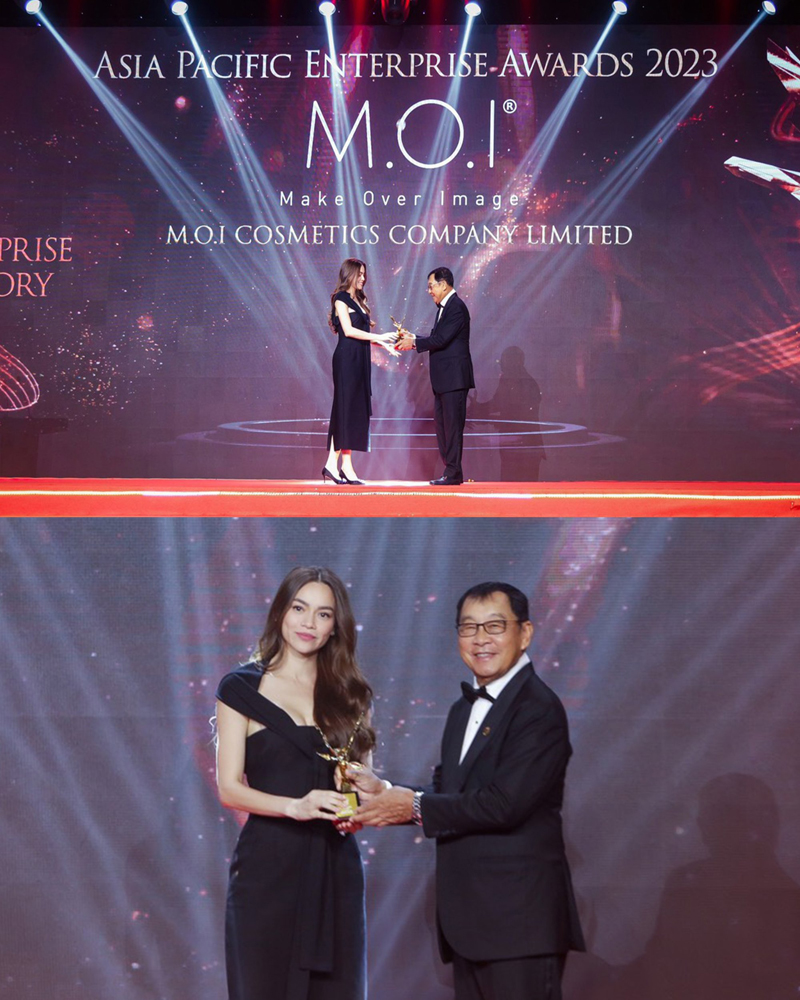 The founder and Creative Director of M.O.I Cosmetics, singer Hồ Ngọc Hà, received the "Fast Enterprise Award" for rapid business growth.
In this category, the criteria for the "Fast Enterprise Award – Rapid Business Growth" include annual revenue of at least 2 million USD. To achieve this category, M.O.I not only demonstrated excellent business performance, innovation capabilities, and adaptability but also earned recognition for its outstanding growth rate, surpassing an impressive 150% annually over the past few years. Even during the COVID-19 pandemic, M.O.I stood out as a rare startup that maintained a positive profit despite operating for only six months in 2021.
Furthermore, the award criteria also emphasize a company's ability to achieve remarkable growth in revenue, expand its customer base, increase market coverage, attract more users, and enhance website traffic in recent years. Additionally, it highlights the importance of building a talented workforce and delivering meaningful contributions to the community and society.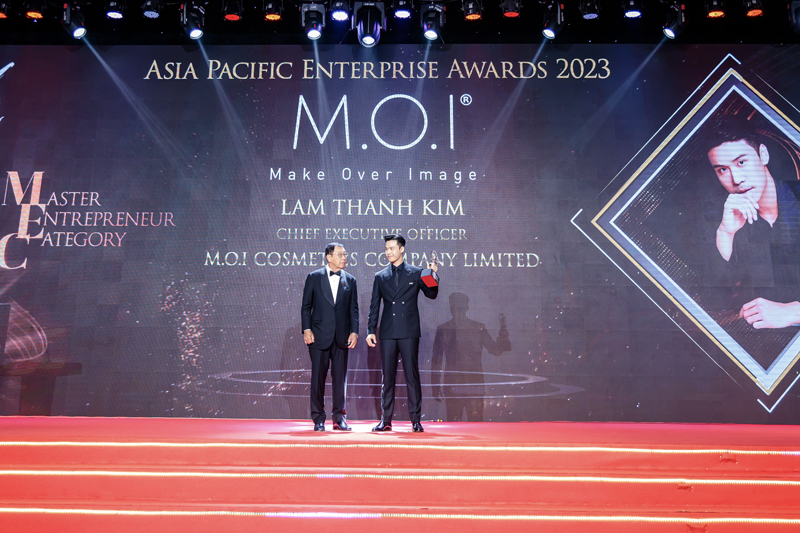 Founder and CEO, Lâm Thành Kim, was honored with the "Outstanding Entrepreneur of the Asia Pacific" award at the Asia Pacific Enterprise Awards (APEA) in the Pacific Rim region.
In the category of the "Master Entrepreneur Award – Outstanding Asian Entrepreneur," the criteria dictate that the entrepreneur must have led their business for a minimum of 2 years, with annual revenues of at least 5 million USD. They should demonstrate vision and a strategic approach that enables the business to overcome challenges and achieve sustainable growth. Furthermore, they are expected to have a positive impact on the community, such as inspiring entrepreneurship, supporting young entrepreneurs, and making material, expertise, and time contributions to the community in need.
When asked what is most gratifying about the project to date at M.O.I Cosmetics, CEO Lâm Thành Kim didn't hesitate to respond: "It's the founding team. After 5 years, our leadership team still holds onto the mission we set out with, and this is what helps the company retain both customers and personnel. Because, even if you have quality, good pricing, and attractive designs, it's not guaranteed that consumers will remain loyal to M.O.I."
Despite achieving impressive metrics, these past 5 years with the two founders, Creative Director Hồ Ngọc Hà and CEO Lâm Thành Kim, are just the beginning of M.O.I Cosmetics' long-term journey. The plan for the next 5 years revolves around expansion and development. M.O.I Cosmetics aims to broaden its product portfolio and reach out to more diverse consumer groups by venturing into previously untapped regions.
This phase also marks M.O.I Cosmetics' aspiration to stand shoulder to shoulder with international brands. The company has already implemented international standards for its products, encompassing both packaging and product quality, from 2018 to the present.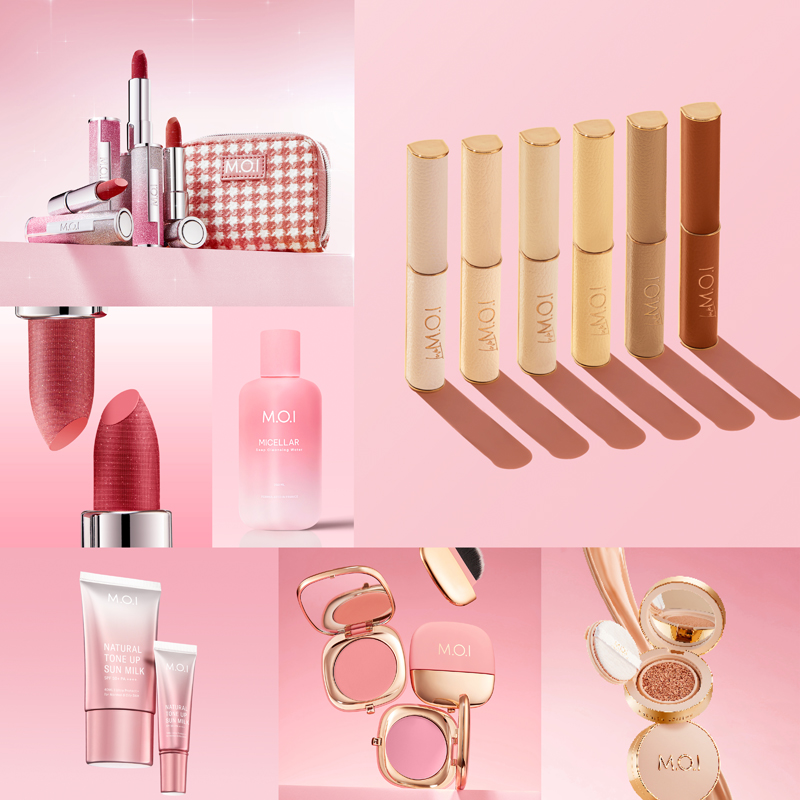 The beauty products from the domestic cosmetics brand M.O.I Cosmetics have received a positive reception from consumers.

The company officially became profitable in 2019, and M.O.I Cosmetics also started making a mark on the continental stage, notably receiving the Inspiring Brand Award at the Asia Pacific Enterprise Awards (APEA) in 2021.
Furthermore, M.O.I Cosmetics is currently the only domestic cosmetics brand from Vietnam featured in the top 10 makeup cosmetics market share, with a remarkable growth rate of up to 355% over the past 5 years.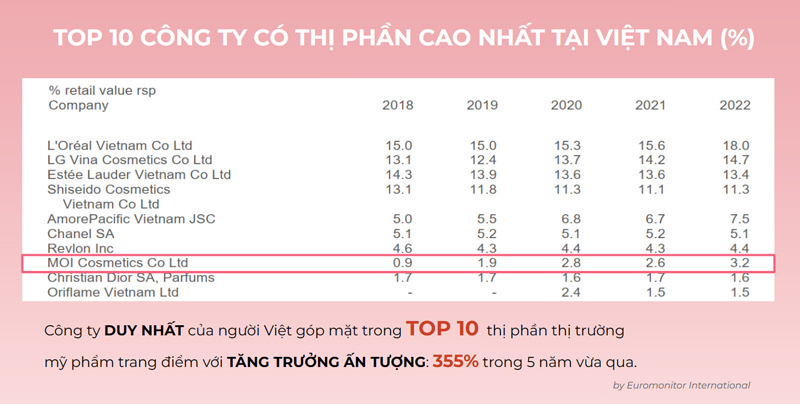 According to the 2023 report from Euromonitor International.
M.O.I Cosmetics: A 5-Year Journey Inspiring Beauty
After its initial five years, M.O.I has achieved significant milestones in its journey. Starting with just 30,000 units of the Hongocha's Secret lipstick sold rapidly within 24 hours of its launch, the brand has now sold over 4 million products, including more than 20 product lines, reaching the hands of discerning consumers.
Originating from basic makeup products like lipstick, foundation, and eyeliner, in 2021, M.O.I expanded its offerings to include the skincare brand "DA by M.O.I." Presently, the company's distribution network covers a wide spectrum, boasting over 1,000 retail partners across the nation. M.O.I products can be found in more than 90 stores through distribution channels such as Guardian, BeautyBox, Hasaki, MediCare, AB Beauty World, and within the IPP airport retail chain.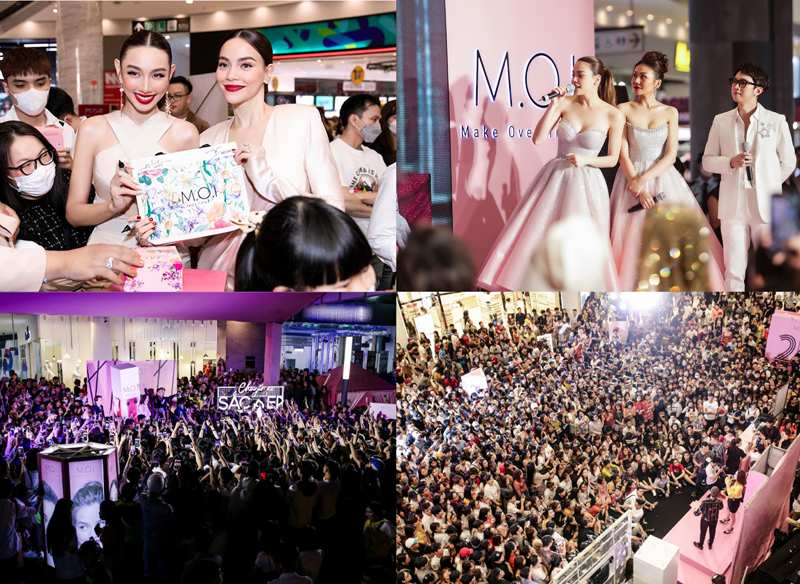 All the product launch events of M.O.I Cosmetics have attracted thousands of participants.
The mission of M.O.I Cosmetics is not only to inspire beauty among the Vietnamese people but also to ambitiously assert its domestic cosmetic brand presence in the market, reclaiming market share that had been dominated by foreign brands, accounting for over 90%. M.O.I has contributed additional strength to the Vietnamese cosmetics industry, creating a more trustworthy and prestigious image in the eyes of consumers, evoking a sense of pride in using Vietnamese products."
Read more: Vietnamese Brand M.O.I Cosmetics, Founded by Ho Ngoc Ha, Rises to Top 10 in Market Share Rankings with Exponential Growth