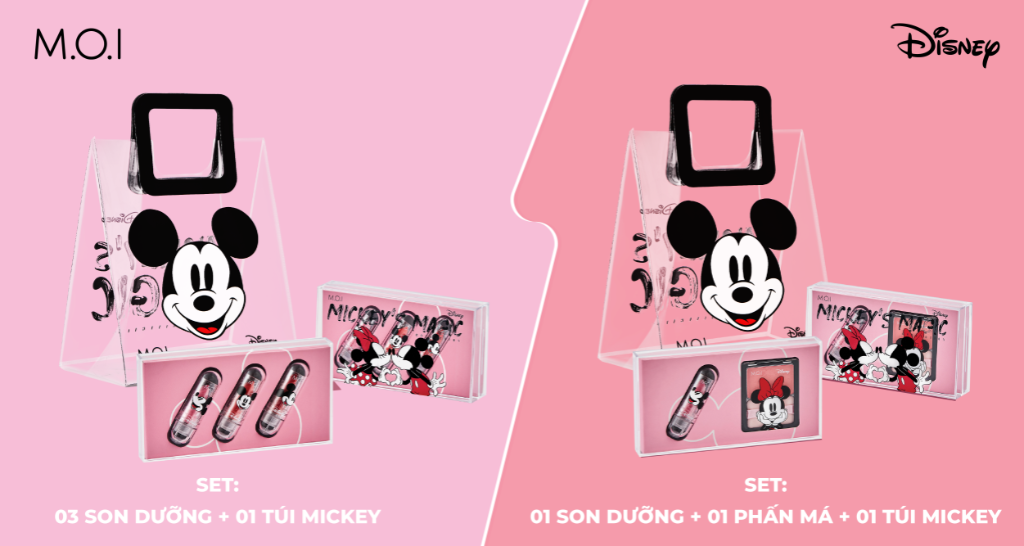 A leading professional makeup brand in Vietnam – M.O.I Cosmetics has made the move to stand out against other cosmetic brands, while bringing excitement and pride to the Vietnamese people with the official announcement of an exclusive collaboration with Walt Disney Entertainment Group to bring brand new cosmetic products to the market.
Does M.O.I Cosmetics still hold a competitive presence in the cosmetics market?
The Vietnamese cosmetic market is dynamic and on a growth trend. The younger generations are constantly changing with beauty trends in other markets around the world. According to a 2018 study from the Ho Chi Minh City Cosmetic Chemistry Association, the size of the Vietnamese cosmetic market is about 2.3 billion USD, with 90% of the proportion belonging to foreign brands and only 10% of the market are Vietnamese companies *.
M.O.I Cosmetics is a Vietnamese startup in the cosmetic field, which was founded in 2018 by co-founders  –  Singer Ho Ngoc Ha and Entrepreneur Lam Thanh Kim. Since the launch, there have been doubts and concerns that the young Vietnamese brand will face difficulties in a market that is predominantly owned by international makeup giants.  
Since their launch, M.O.I Cosmetics has seen a response from the local market connecting with the brand.  
After a year of operation, M.O.I recorded revenue of 30 billion VND with 2 product lines and sold about 300,000 products.
Entering 2019, the 2-year-old company has achieved a growth milestone of 200% compared to 2018 and has exceeded its yearly target. To date, MOI has sold nearly 1.5 million products, with a basic product line that meets the daily needs of Vietnamese women, from various lipstick lines, face cushions, blush, eyebrow pencil, and a rice facemask women can use in their daily life.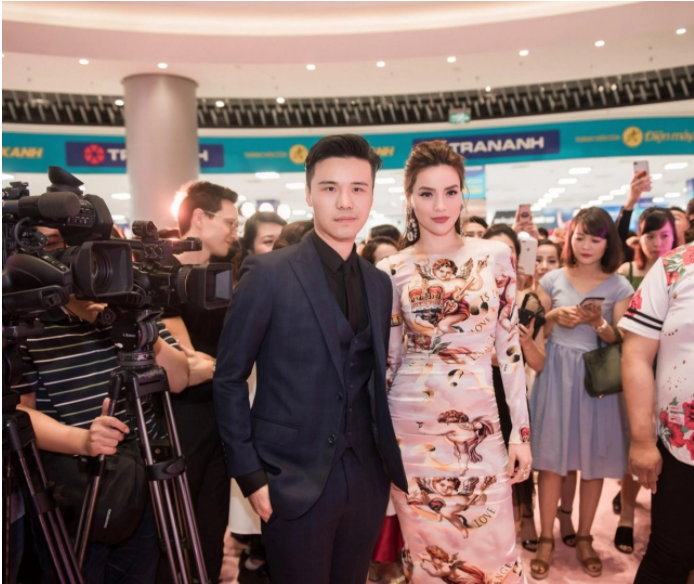 Creative Director Ho Ngoc Ha with CEO Lam Thanh Kim of M.O.I Cosmetics at the product launch event
A million-dollar handshake between M.O.I and "giant" Disney created strength for the Vietnamese cosmetics industry
The collaboration between M.O.I Cosmetics and prestigious international brand – Disney to create a limited edition Mickey's Magic collection launched in September 2020. Ho Ngoc Ha, the co-founder and creative director of the brand shared during the Livestream that the team spent a year of careful development to work with Disney and develop the product line.  The M.O.I team worked diligently working, creating, and adjusting with Disney and other stakeholders, ensuring that the products and packaging developed met the standards of Walt Disney Global.
Collaborations between brands are not unheard of but it's normally one industry giant with the other. In 2015, fashion brand H&M collaborated with luxury brand Balmain to create an "earthquake" that caused fashion followers all over the world to queue in line for hours to get their hands on the items; or the mashup of street fashion brand  Supreme and one of the world's most luxurious brands – Louis Vuitton had items auctioning off at way more than store value. In early 2020, Gucci also announced their upcoming collaboration with Disney to launch a Mickey Mouse collection that sold out almost instantly.
Perhaps, M.O.I Cosmetics is not too far away from playing in the international market. They've established their position as a Vietnamese brand with the partnership of Disney and maybe the premise for other interesting international partnerships in the future.
Earlier, CEO Lam Thanh Kim shared: "In addition to building trust in the brand every day, we also have to build trust with most consumers and  Vietnamese cosmetic products". And yes, through this collaboration, M.O.I has built up trust in its product quality, production capacity, and its position in the Vietnamese cosmetic market by meeting top Disney standards. Moreover, M.O.I has strengthened the Vietnamese cosmetics industry, creating a more reliable and classy image in the eyes of consumers, evoking the pride of "Vietnamese people use Vietnamese goods".
Breaking the "psychology of foreign preference" of Vietnamese consumers
Currently, foreign brands are prevailed by the strength of capital and distribution channels but there is still a gap in the Vietnamese cosmetics market as consumers' demand is constantly changing and product response is often not easy to implement in a timely manner. 
Seeing this opportunity, M.O.I Cosmetics has brought a Vietnamese brand with international quality with the capability to respond to the needs and demands of  Vietnamese people. The brand continuously produces lipsticks, cushions, blush, and masks that are researched on Vietnamese skin and manufactured with modern technology in South Korea.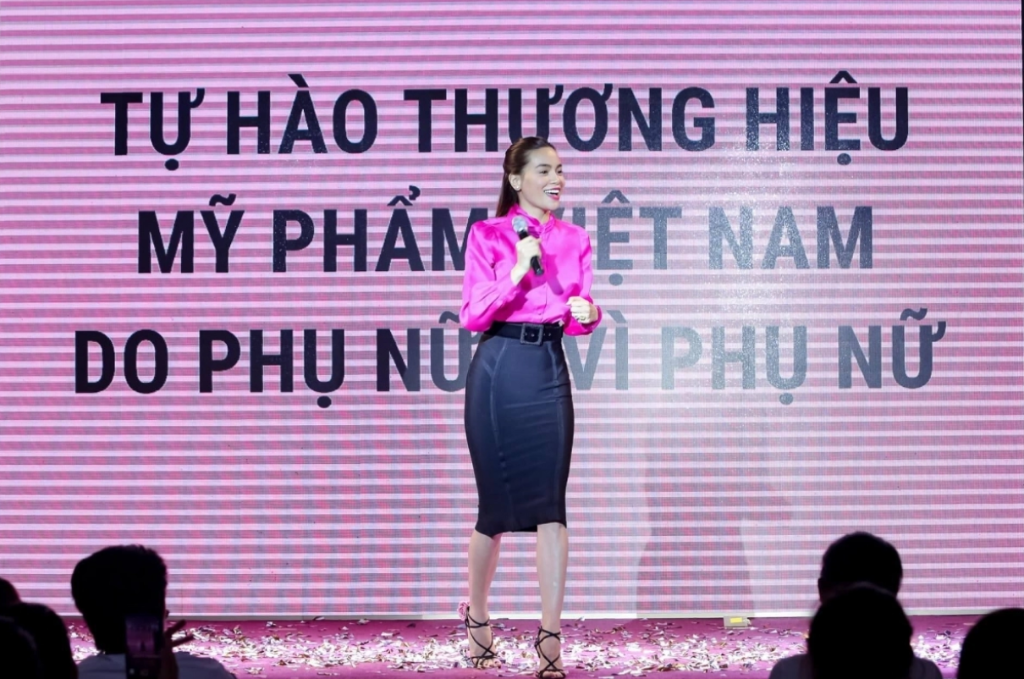 Ho Ngoc Ha is in an event to promote the cosmetic brand M.O.I
However, a good product suitable for consumers is not enough. Lessons learned from many other Vietnamese brands, if there is only good quality, it is impossible to compete with foreign brands with diversified and eye-catching designs. With that in mind, M.O.I determined that in addition to focusing on the quality and color of the product, the packaging design must be set with the highest standards of aesthetics, fashion, and sophistication. "If domestic brands aren't in demand with product standards, they will not have a position or even exist in the market when the competition with imported products is too great", said CEO Lam Thanh Kim.
Not only is the carefully developed product packaging key, but they also invest methodically into each image on the brand's social channel and develop eye-catching Marketing campaigns to ensure M.O.I stands out in the market. 
Not "fun", it's a business strategy
Many celebrities have started their own brands and are no strangers to creating consumer products. Today, we have Kylie Cosmetics by Kylie Jenner, Fenty Beauty by Rihanna, or Kora Organics by Miranda Kerr  – all cosmetics brands founded by celebrities. 
M.O.I's business model is similar when using the "strength" of singer-creative director Ho Ngoc Ha's image to promote its products. However, according to experts in the cosmetic industry, if you simply take advantage of the image of a celebrity, M.O.I may find it difficult to "survive" under pressure from the market and other competitors. Because if consumers only buy out of curiosity what Ho Ngoc Ha puts out, it may lead to difficulty in the growth of the M.O.I brand.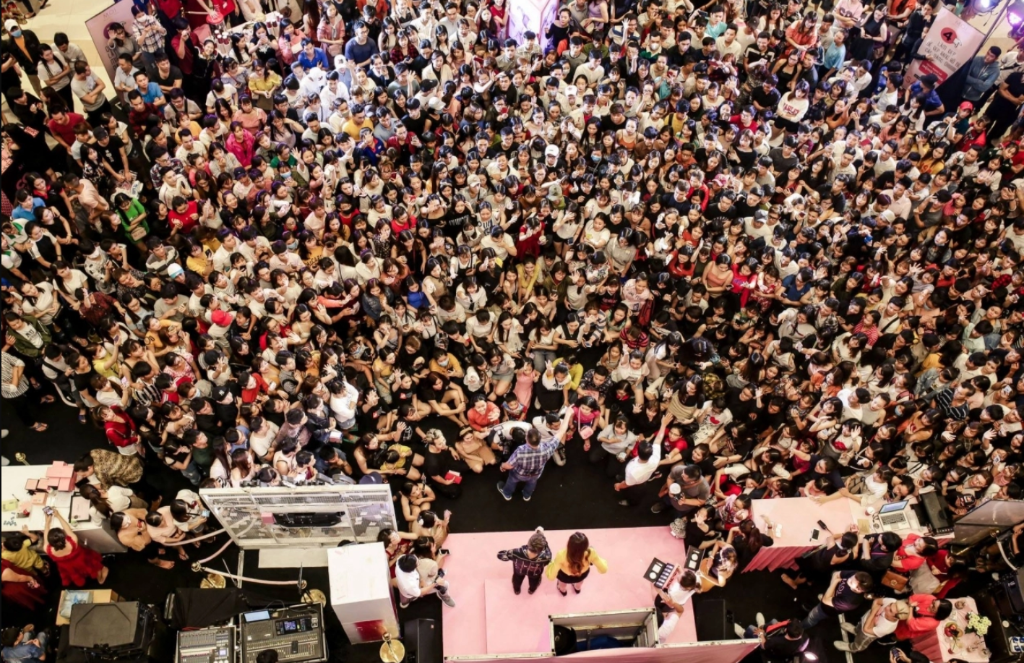 One of the great moments at the "beauty ride" event organized by M.O.I Cosmetics
However, it can be seen that cleverly taking advantage of the image and influence of a "fashion icon" like Ho Ngoc Ha has helped M.O.I to retain the initiative in Marketing and save budget for long-term promotional campaigns. In 2019, Ha Ho also personally traveled across the country with the M.O.I's "beauty ride", departing from Ca Mau to Hai Phong to be able to personally instruct how to apply makeup for young girls and women with the mission to educate women and change the beauty and self-care standards that Vietnamese women have learned. 
So to stay stable in the cosmetic market, what strategies are M.O.I applying?
In addition to focusing on product, quality, and packaging, M.O.I is always at the forefront in creating "trends" when developing cosmetics. This startup defines a product launch cycle within 6 months to 1 year, this is the time for the company to research, implement, and launch new products, in order to catch up with the global trend while updating new technology from the factory. Therefore, the products of M.O.I always catch up with the trends in the world while ensuring it's always "suitable for Vietnamese".
Next, each product when released is associated with a story, conveying a message. M.O.I seeks to tell stories in many different ways and works with celebrities to launch product collaborations. For example, the S.Girls matte lipstick with 7  youthful colors, was developed with Miss Huong Giang –  a person who is a large influencer in the young community and has a powerful following making her a great person to work with. Together M.O.I and Huong Giang built a great product with a story that connected with the Vietnamese people in an intriguing way.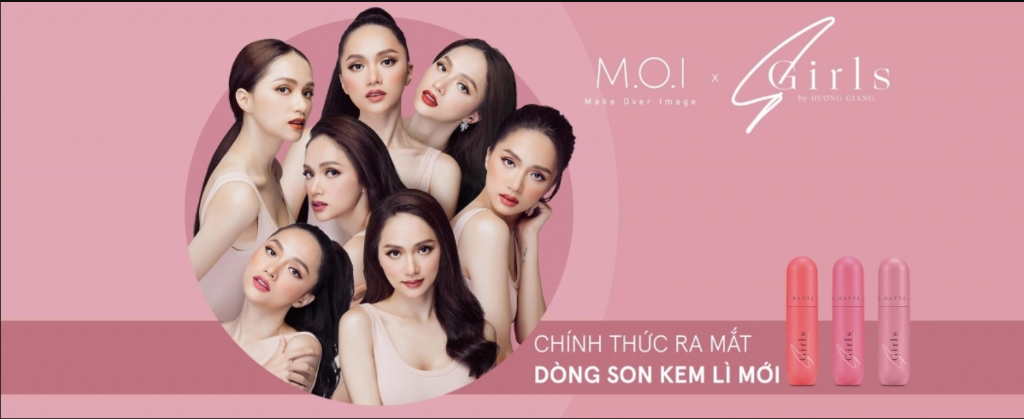 Miss Huong Giang cooperated with M.O.I Cosmetics to launch the S.Girls matte lipstick by Huong Giang 
In addition, the flexibility and fast improvisation helped M.O.I "survive" when COVID-19 hit when a series of other businesses were affected. At this time, the brand's main target audience was unable to go out regularly to use makeup products.
Faced with this dilemma, M.O.I has improvised quickly by expediting the launch of pure Rice masks (scheduled to launch in 2021). According to CEO Lam Thanh Kim at the seminar between fashion and beauty brands organized by Harper's Bazaar VN magazine: "Only with quick action and flexibility, can we minimize the risks".
And another strategic move that has helped the startup overcome the COVID-19 storm and led to sales of more than 100,000 rice masks sold is to choose the right distribution channel. Unlike other brands, M.O.I's products are mainly distributed through online channels and a network of more than 1,000 sales agents nationwide.
The brand gradually affirms that M.O.I Cosmetics is not just the business improvisation of singer Ho Ngoc Ha and CEO Lam Thanh Kim, but behind it is an investment in business strategy, mission, and vision that clearly shows the ambition to make M.O.I become a reputable Vietnamese cosmetic brand and is the pride of domestic beauty followers.
Source
The pride behind the million-dollar handshake between M.O.I Cosmetics and "Global Giant" Disney https://www.brandsvietnam.com/21005-Niem-tu-hao-an-chua-sau-cu-bat-tay-trieu-do-giua-MOI-Cosmetics-va-ong-lon-Disney