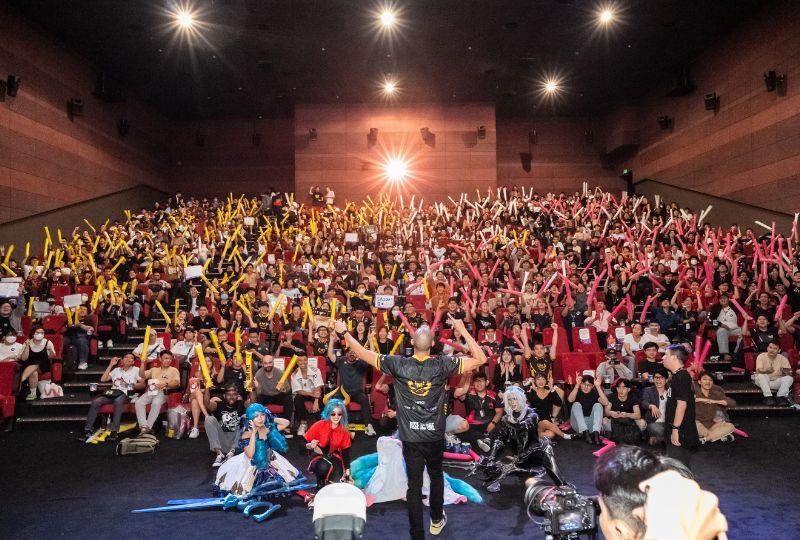 Esports organization GAM transforms professionally under the systematic investment of experienced owners.
On the evening of September 9, 2023, Lotte Cinema Go Vap's Largest Theater was tightly packed even though it was not the premiere event of a blockbuster movie. With team jerseys, banners, and slogans, 620 fans were all motivated by eSports to participate in the viewing party of the final match of the League of Legends VCS Sunset 2023. On stage, cheerleaders warmed up the atmosphere with group games and performed cosplay. The match was streamed live on the big screen, and hundreds of fans cheered for every match between the two strongest teams of the season: GAM Esports and Team Whale.
"For a fan, there is no other experience that can come close to watching matches at the stadium or viewing parties like this," TK Nguyen, CEO of NRG.Asia – the owner of GAM Esports, said to Forbes Vietnam right after the event ended. As the creator of many new ideas at GAM Esports, TK is the team's main cheerleader on every occasion, including a series of viewing parties. According to him, organizing a series of events creates an emotional connection between communities, fans, and the team. In the ecosystem of the eSports gaming industry, passionate fans make the gaming industry more and more popular.
Acquired by NRG.Asia in 2021 and receiving capital from investors with experience in the field of sports and entertainment, GAM Esports is a team with excellent achievements in the League of Legends in Vietnam. They actively innovate and develop a more sustainable business model in the eSports industry, an industry with great potential but still very primitive.
Co-invested capital to buy GAM is CMG.ASIA and CEO TK Nguyen group, for a total capitalization of two million US dollars. CMG.ASIA Chairman – Randy Dobson, who appeared in Forbes Vietnam issue No.45, became famous in the investment world after building and exiting the California Fitness & Yoga gym chain in 2018. For his part, TK Nguyen is also looking for new opportunities after success in the nightlife business.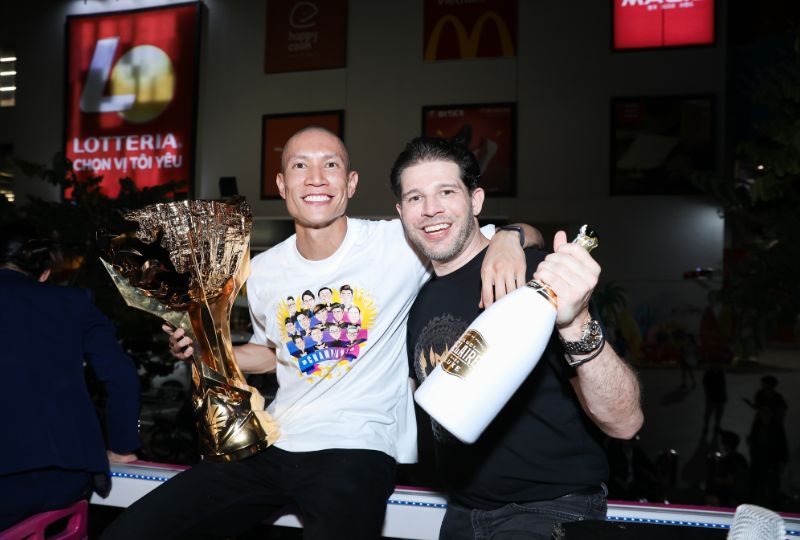 TK Nguyen (left) and Randy Dobson (right)
Not being a fan of video games, Randy had happened to attend a match at MSI, the second-largest tournament of League of Legends in Taiwan telling TK about the experience later. TK Nguyen recounted: "We never imagined that eSports could be so attractive, thousands of people crowded into the arena, there were events for matches, and the gamers were stars with abundant fans who asked for autographs, bought merchandise, and jerseys to support." Returning from this crazy atmosphere, Randy and TK learned more about eSports, quickly realized the huge potential, and decided to invest money in this field.
According to data from Nikkei (October 2022) and eSports Insider (May 2023), the number of eSports fans in Vietnam is estimated to be over 13 million people. Notably, Vietnamese fans account for 30% of the number in the entire Southeast Asia region. Additionally, the number of eSports followers is growing rapidly, about 10% per year, along with the rise of high-speed internet and the population of mobile devices.
As for the game League of Legends, data from the VCS National Championship shows that Vietnam continues to outpace Southeast Asian countries, ranking third in the world in terms of the number of followers, just behind the gaming mecca of China and Korea – the developed market that gave birth to eSports.
When Randy and TK Nguyen looked at potential teams, GAM Esports (formerly known as Gigabyte Marines) was the top candidate. GAM always holds the position of the most successful League of Legends team in Vietnam, with nine national championships to date, and is one of the strongest teams in Southeast Asia in the period 2013-2018.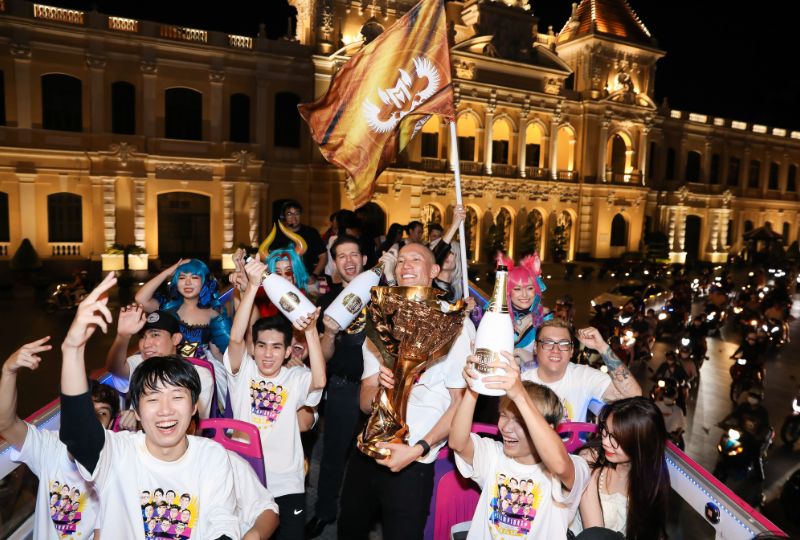 CEO TK Nguyen and Randy Dobson (standing in the middle) celebrate the championship with GAM 
In 2018, GAM was a famous dark horse in the League of Legends community when it won spectacularly against a series of big names, right in its first appearance at the World Finals (Worlds 2017), helping GAM own a large number of fans abroad.
In the purchase of GAM Esports, the value is about 200 thousand US dollars from Yup.gg, an eSports company based in Singapore, CMG.ASIA invited US-based eSports organization NRG to participate. NRG's main role is to franchise, provide eSports business models and strategies, and consult for the new management company, under the NRG.Asia brand.
The combination of knowledge from NRG North America and successful experience in investing in startups in Vietnam has helped GAM become a more professional unit and a pioneer in testing a sustainable business model for the eSports field domestically. Despite accumulating losses, TK Nguyen said that NRG.Asia is expected to break even in 2023. However, this is still a good sign in the context of Vietnam eSports as well as the world struggling to find a way out when the sponsor is gradually tightening.
Of which, the majority of the company's income comes from advertising and sponsorship contracts, accounting for 55%. Revenue from tournament prize money accounts for about 20%, as well as selling jerseys and merchandise souvenirs contribute 10%; Event activities contribute 10-15% of the remaining portion. In League of Legends, fans just received sad news when Saigon Buffaloes eSports, one of the most successful teams, posted news of selling the entire roster and tournament slots due to financial difficulties.
Investor representative, Ms. Phan Dieu Huyen, managing partner of CMG.ASIA said: "From NRG's models, we have researched and implemented many business methods to promote development. TK Nguyen's role is very important in connections with brands, sponsors, as well as tournament organizers."
Born into a Vietnamese family in San Diego, USA, TK Nguyen's parents never thought about their child returning to Vietnam to live.
Claiming to have business acumen, TK saw the potential as well as the primitiveness of the domestic entertainment and tourism market when he returned to Vietnam more than 10 years ago. Together with his younger brother, TK opened a rooftop bar (skybar) at one of the largest hotels in Nha Trang. Tall in stature, resonant voice, and dynamic style, TK often stands out as a cheerleader at parties with hundreds of participants.
"I love connecting people through event activities," said TK Nguyen. He said revenue from advertising and sponsorship for GAM eSports in 2023 increased 2.5 times compared to the previous year. From accumulating personal experience, events are also organized more systematically. "All the public viewings are sold out, the most expensive ones cost up to a million dong, all of which are sold out," TK said excitedly. The common point between nightlife and eSports business is the entertainment element, both need to bring customers "special, high emotions." "He believes that the Vietnamese eSports scene has a lot of potential but is still relatively undeveloped. "As a pioneer, GAM has the advantage of being supported by the community and representing the gradual professionalization of eSports. On the contrary, you also have to bear the risk of "trial and error to gain experience," TK reflected.
In addition to organizing networking events that provide opportunities for fans to interact and enjoy special moments, TK Nguyen is also deeply committed to enhancing GAM's brand image. The gaming team has introduced its own theme song, "Rise As One" promoted the organization on various social networking platforms, and conducted collaborative promotional campaigns with sponsors. TK has also played a pivotal role in creating distinctive hand signs and enthusiastic slogans for the team.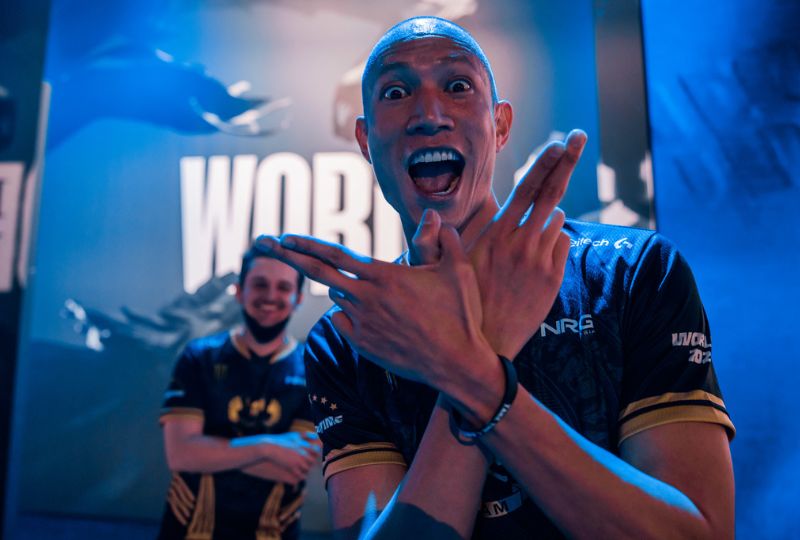 Author: Trong Nam
Read more: CMG.ASIA announces their newest business investment creating NRG ASIA & its first acquisition of Esports GAM team, VCS League Of Legend Champion 2021