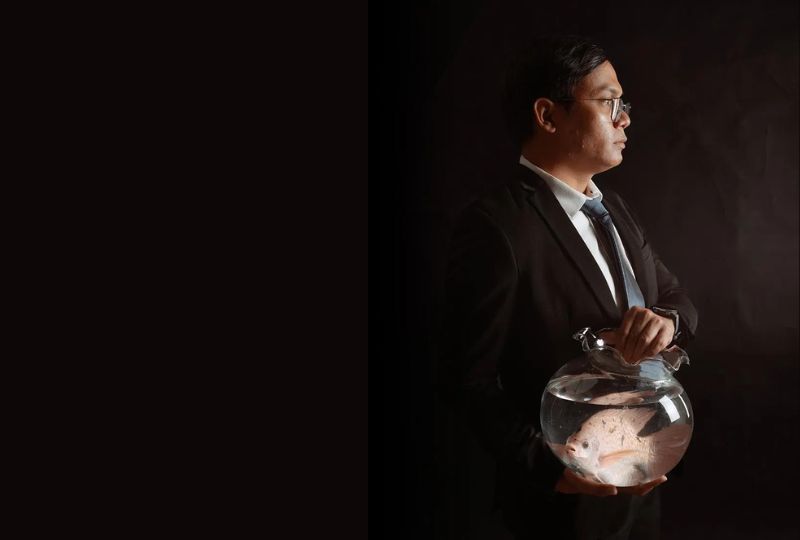 Gibran Huzaifah bred fish to pay his university fees, then built eFishery into a company involving 300,000 fishponds. He's expanding to India and elsewhere.
Gibran Huzaifah's path from startup to unicorn is strikingly different from those taken by other Indonesians. Instead of developing applications for the marketplace where customers are mainly in cities, he works in rural areas and has tapped an unlikely, easily ignored resource: catfish.
The 33-year-old literally learned aquaculture from the bottom up. He built his own fishponds to support himself while studying at a state university. After graduation, he launched a business to work with breeders, providing them with an Internet of Things device that automatically fed their fish and cut their costs. It was a decade ago that Huzaifah cofounded Multidaya Teknologi Nusantara, which is known to its 70,000 fish and shrimp breeding customers as eFishery. When the business started, "nobody would think a startup in fisheries would become a unicorn," Huzaifah says in an interview in late July. "I didn't dare to promise it, but we made it."
In July, unlisted eFishery became what appears to be the world's first aquaculture unicorn and Southeast Asia's first agritech unicorn. It did that thanks to a $200 million series D fundraising led by Abu Dhabi's 42XFund. Aside from putting the value at more than $1 billion, that fundraising was completed at a time money for the tech sector was getting hard to secure and many companies were cutting costs and employee numbers.
Not surprisingly, the journey to success wasn't as smooth as a fishpond's surface. Huzaifah learned early and often how to carry on when his pitches to farmers and potential investors failed to win customers or funds. "The first five to six years were the hardest," he says. "We faced a lot of rejections, including from investors. I told them this kind of business takes time to educate the market and needs patience."
But perseverance paid off. Today, eFishery is involved with about 300,000 ponds and is an end-to-end aquaculture value-chain company that offers fish breeders more than the automatic fish-feeding tool for rental. It also helps to finance purchases of feed and to offtake harvested fish. But it's not contract farming in which the breeders have to sell their production to the company. Indeed, the CEO says eFishery is "not trying to build a vertically integrated monopoly business. We want to build an end-to-end business model but still give freedom and independence to our partners, especially the farmers."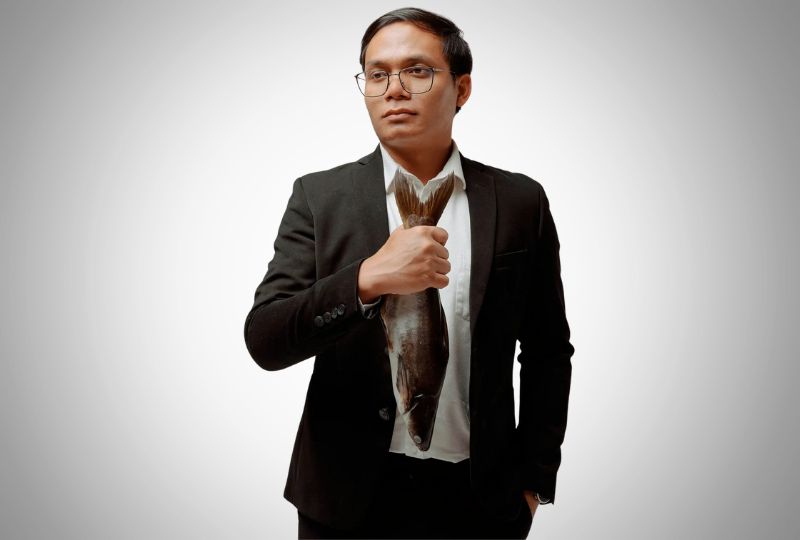 Gibran Huzaifah, cofounder and CEO of eFishery.
Huzaifah claims the company has been profitable since 2018, although he doesn't provide any figures, citing a nondisclosure agreement signed with investors. In June 2022, Northstar Advisors cofounder and managing partner Patrick Walujo told a startup seminar held in a Jakarta suburb that eFishery's annualized revenue had reached 4 trillion rupiah ($263 million). Walujo invested personally in 2018 and two years later his investment firm co-led eFishery's series B funding round. (Huzaifah declines to comment on the statement and Walujo, who is now also CEO of giant unicorn GoTo, didn't reply to a request for comment).
Fishing and fish-breeding is a big business for Indonesia, the world's largest archipelago with more than 17,000 islands—it was the second-biggest fish producer and second-biggest aquaculture producer after China in 2020, according to an OECD-FAO report, the latest figures available. But the sector has long punched below its potential. Fisheries contributed less than 3% of GDP last year. Specifically in aquaculture, the picture is mixed. Government data shows the industry nearly doubled in value from 111 trillion rupiah in 2013 to 197 trillion rupiah in 2021, but in the same period, the number of fish farmers dropped by 42% from 3.8 million to 2.2 million. Low incomes and hopes of finding better-paying work in other industries and in cities have caused many to quit breeding.
Huzaifah grew up in Jakarta and wasn't from a fishing or farming background. His father helped supervise construction projects in the city and his mother sold rice in a nearby wet market. The family home bordered one of East Jakarta's poorest neighborhoods and the parents of many of his elementary school classmates were scavengers who eked out a living. Huzaifah won admission to Bandung Institute of Technology (ITB), Indonesia's best-known technical university, and he went there to study biology. Huzaifah signed up for a class on aquaculture and, needing income to pay university fees, decided to take the plunge in fisheries himself.
He rented a fishpond to breed and sell catfish, and after it was in the black, he expanded and by 2012—the year he graduated from ITB—the young entrepreneur was managing 76 of them. In addition to his college education, he got one on the tribulations of fish breeders, such as how feed costs hit margins and the cornering of local fish markets by middlemen.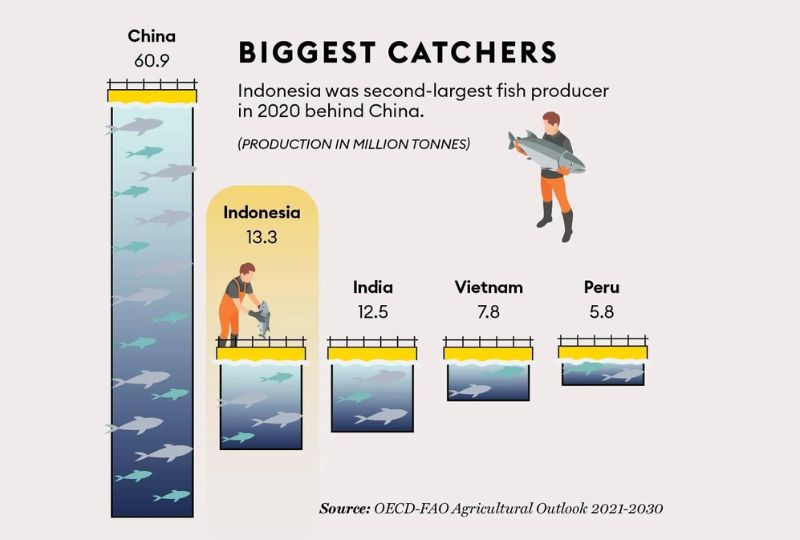 The experience in Bandung gave him a clear view on what he wanted to build for his company: a piece of hardware, rather than just software and apps like other unicorns. The tool was to control fish feeding, to prevent using too much or too little. According to eFishery, fish only need a daily feed of about 4% of their body mass for optimal growth, less will make them grow slowly, but too much, which often happens, means waste and a thinner margin from breeding. Feeding time is also essential, and farmers aren't always aware of the schedule, Huzaifah says.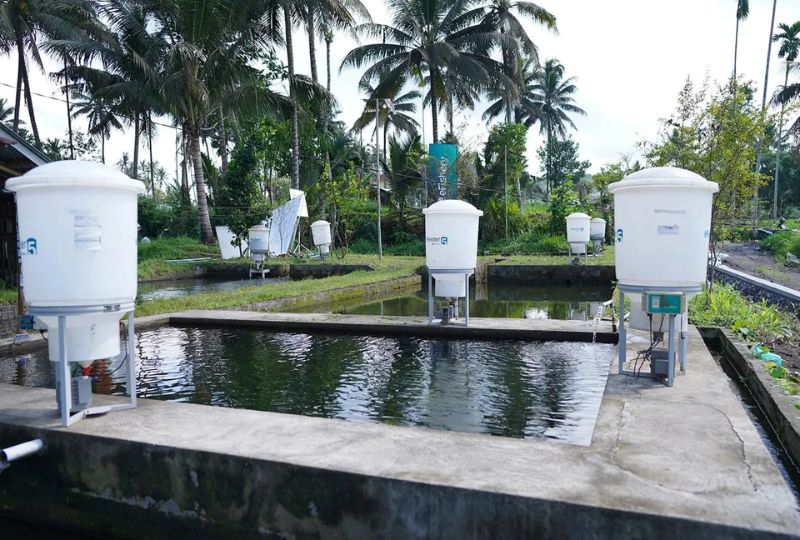 The company's smart feeders are also equipped with sensors to monitor pond conditions.
The feeder—now in version 2.1—is equipped with sensors to monitor pond conditions and can be connected with solar panels to be used in places not on an electricity grid. Breeders rent them for 15,000 rupiah a month, and operate them from their phone. "The first challenge was to create an affordable, durable product with minimal development cost because we didn't have the capital. We thought that if we don't have the best product, we need to have the best customer service. So I often stayed at the ponds, fixing errors encountered by our customers, but it was also hard to get one in the beginning."
The company introduced its first model in 2014. It took Huzaifah 97 days to get his first customer and nine months to get the first 10, renting out only 14 feeders. He notes that those first customers took the bait not because they were convinced the device would help them, but out of pity and owing to his persistence. It took another three to four months, or one farming cycle, for customers to realize that the feeders were useful. Huzaifah says once a farmer is convinced, they tell other farmers. The same likely goes with the investors. He says before the series B round, 99% of the investors he pitched to weren't interested. With the few who agreed, it sometimes took up to 12 months to close the deal.
One eFishery customer in Bali is Agus Ariawan, who gave up office work during the 1997 Asian financial crisis and started raising catfish. In 2021, after eFishery opened an office near his home, and he signed up for a feeder. "Until they are 1.5 months old, catfish must be fed twice a day, and I often forget to feed them at night," Ariawan says. "I don't have to worry about that with the feeder, which then shortens the harvest time. The financing also helped me scale up my ponds. I have 16 now." Loans are "in the form of fish feed. There are other lenders, but if they gave us cash, it tends not to go to the fish, and gets turned into a new motorcycle or electronic appliances," Ariawan says.
In July, unlisted eFishery became what appears to be the world's first aquaculture unicorn.
Periodically, Ariawan shares his experience with other breeders at gatherings hosted by eFishery that can involve more than 100 people. Attendees include prospective customers. At a mid-July gathering in Bali's Tabanan district—one of Bali's aquacultural centers with plenty of fresh water sources—one farmer asked whether the feeder could be used for frog-farming. The company indicated it will look into the possibility. (Frog is a source of protein in some parts of Indonesia.) The company maintains that a third of the island's roughly 3,000 fish farmers are its customers.
Rajendra Aryal, Indonesia and Timor Leste representative of the U.N.'s Food and Agriculture Organization, says eFishery has the potential to contribute to the sustainability of the Indonesian fishery sector. Smart feeding technology, he notes, can "help farmers optimize feed usage, reduce waste and improve fish health, ultimately increasing farm productivity and profitability." Still, Aryal says that "continuous monitoring and adjustment of their technology and business model will be essential to ensure long-term sustainability."
While automatic feeders were key to eFishery getting off the ground and staying there, Huzaifah says the business model has changed in the past three years, and the tool is no longer a significant revenue contributor. Taking its place are margins involving a mix of financing, which includes channeling credit from banks to farmers to be used for buying fish feed from third parties, and fish sales. In a presentation at the Forbes Global CEO Conference in Singapore in September, Huzaifah joked that the "fish tank is the new fintech," adding that in aquaculture, "we're the largest fish in the sea."
"To achieve the level of growth we expected, partnership with feed producers and finance companies is necessary. If we build our own feed factory, we might trap the farmers in buying our products and betray the idea of helping them," Huzaifah says. The company maintains it has significantly lifted breeders' income.
At this stage, eFishery doesn't have a competitor, and is in a good position to expand because it's already profitable, rather than striving for profit at a time when funding has become tight. Indeed, Huzaifah has plenty of expansion plans and ambition. He wants to more than triple the number of ponds in eFishery's ecosystem to 1 million in 2025, and to get into exporting fish. He also wants to expand in other countries, and has started pilot projects in Bangladesh, Thailand and Vietnam.
Huzaifah says his company will focus on growing in India, where eFishery established a small footprint in the past year. According to him, India has a similar fragmented market like Indonesia but with more farmers and lower productivity, which gives plenty for the company to work on. The company has also begun exporting shrimp to the U.S. market, where buyers can trace the ponds' origin locations, the farmers' identity, the feed used and whether antibiotics were used, among other information, albeit needed to pay a premium price. Huzaifah says once the company builds an international reputation in terms of ecosystem and market, the next goal is an initial public offering in the U.S.
And he aims for a bigger catch. His website says eFishery is "bridging the digital gap, meeting the world's food needs."
Author: Ardian Wibisono
Photo: Muhammad Fadli 
Read more: Indonesian aquaculture startup eFishery nets $200M at unicorn valuation