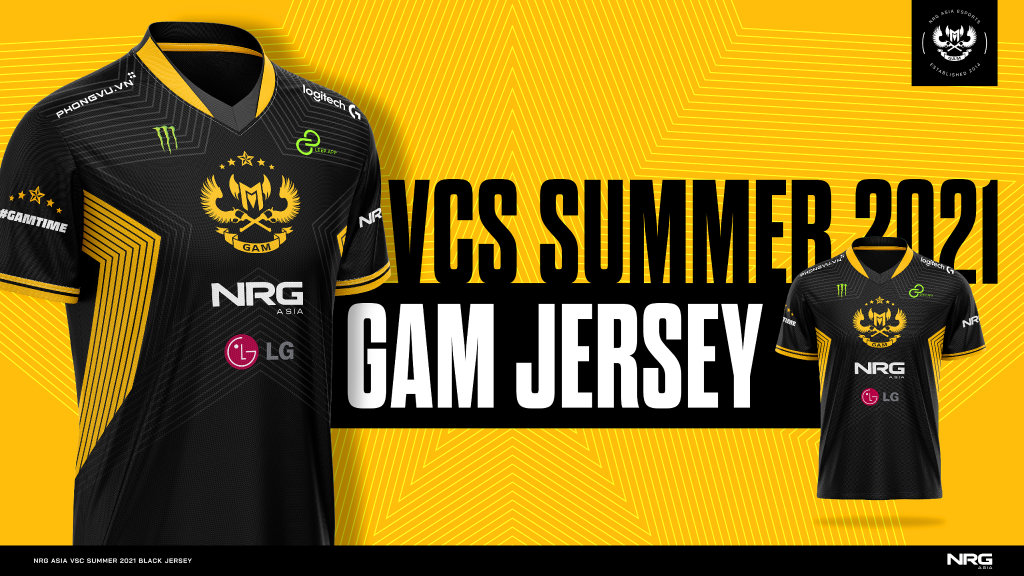 NRG Asia has just released new GAM jerseys for the Summer 2021 season with the team slogan #GAMTIME & 5 stars on the right arm representing GAM's 5 VCS championship wins.  The 5-time League of Legends champion's new team uniforms feature returning main sponsors Monster Energy, Logitech G & PhongVu plus the addition of 3 new sponsors LEEP.APP, LG Electronics & CMG.ASIA . The central design element of the new uniform has a star pattern at the center to symbolize national pride in anticipation of representing Vietnam on the world stage for both Worlds and SEA Games later this year.
GAM was recently acquired in a historic deal by newly formed NRG Asia, a partnership between CMG.ASIA and NRG Esports. NRG Asia has committed to providing top quality training, resources and infrastructure to the esports industry, while attracting best in class strategic partners, both internationally and domestically, to showcase Vietnam's growing talent. It's an ambitious goal, but as GAM's slogan goes, "It's our time. It's GAM TIME!"
About NRG Asia
NRG Asia is an esports management & media company focused on representing Southeast Asia's up-and-coming esports power players. The new entity, a joint venture between NRG Esports and CMG.ASIA completed its first Southeast Asia team acquisition with the purchase of Vietnam's League of Legends GAM team. With the acquisition of GAM, the current VCS League of Legends Champions & 5-time title holders for the Vietnam league, NRG Asia will be providing top quality training, resources and infrastructure to elevate GAM's prospects of bringing home the first LOL World Championship to Vietnam.
Being avid gamers growing up, TK (Anthony) & Dru (Andrew) Nguyen who are managing partners, will oversee NRG's franchise expansion across the region. TK Nguyen leads as CEO for NRG Asia with his brother, Dru Nguyen acting as company's COO. TK Nguyen has always been in the business of creating entertaining experiences, starting with his years as a brand ambassador for Moet Hennessy in the nightlife industry. In 2014, he and his brother co-founded their own hospitality company, See The World Group, which has built one of the most successful entertainment destinations in Vietnam, Skylight Nha Trang. His vision of creating experiential events & dynamic esports content, along with the resources and experience provided by CMG.ASIA and NRG will bring Vietnam's expanding esports industry into focus over the coming years.
About CMG.ASIA
CMG.ASIA is the culmination of over two decades of innovation & leadership across multiple industries that have been brought together to form a "Life Enhancement Ecosystem" of portfolio companies which generate exceptional value for their partner's & client's lives.
CMG.ASIA has created, managed and invested in some of the most successful lifestyle brands currently operating in Southeast Asia and has extensive hands on experience with a proven track record of developing and growing companies in a diverse number of lifestyle sectors; including Tech, Fitness, Beauty, Medical, Media & Entertainment.
Founded by Randy Dobson in 2007, CMG has successfully built the largest fitness chain in Vietnam – California Fitness & Yoga, as well as Centuryon Gyms, UFC Gym, Yoga Plus, CaliKids Academy, Eri International Clinics & CA360 Advertising. In addition, CMG's start-up accelerator has helped launch multiple early stage businesses in Southeast Asia including Hello Health Group, RED2 Digital, Yeah1CMG, LEEP.APP & M.O.I Cosmetics.
CMG currently has portfolio brands ranging from Artificial Intelligence Services & E-Sports Teams to Cosmetics & Mobile Fitness Applications.
About LEEP.APP
LEEP.APP is Vietnam's largest and most intelligent active lifestyle network.   A digital Life Enhancing Experience Platform that provides its users with personalized fitness solutions generated by LISA, LEEP's Artificial Intelligence Software Assistant, who will recommend the perfect fitness solutions for your goals and lifestyle.  With LEEP's expansive network of sport activities, gyms and thousands of classes taught by the most qualified personal trainers, yoga instructors and fitness experts. LEEP takes the guess work out of choosing the right fitness solutions for your life and most importantly, LEEP's digital wallet technology allows you to pay as you go without any contracts. Live Active with LEEP!
About LG Electronics
LG Electronics is the world's leading technology group with more than 84,000 employees working in 112 industries including 81 subsidiaries worldwide.
LG consists of five business units – home entertainment, mobile communications, home appliances, air conditioning and business solutions.
In the electronics business, LG is one of the world's leading manufacturers of flat-screen TVs, audio and video products, monitors, laptops, air conditioners and washing machines. LG continues to strive to strengthen its global brand presence and maximize profit growth. In particular, LG Electronics will focus on achieving profitable and sustainable growth in the mobile media and home entertainment industries to maintain its leadership position in the IT industry.
In Vietnam, with the screen product segment, LG brings the leading 1ms Nano IPS technology experience to gamers, besides, LG always accompanies the gaming community in Vietnam through sponsoring Esports Teams and the top esport events in the country. LG Vietnam is very proud of their mission to contribute to making the country's esports expand more developed in the country and go further in the international arena.
About Monster Energy
Monster is way more than an energy drink. Led by our athletes, musicians, employees, distributors and fans, Monster is… A lifestyle in a can.
About Logitech G
Logitech G is a team focused on pushing the boundaries of performance and exploring the possibilities of play. The gaming world is forever evolving and we are dedicated to meeting the challenge. Through better gear and game integration, we facilitate an every greater gaming experience. From HERO, our most accurate gaming sensor to the most immersive, to LIGHTSYNC, our game-driven RGB technology.
About PHONGVU.VN
PhongVu has been around since 1997 and is known as Vietnam's largest electronics distributor focusing on gaming, entertainment, and office equipment. PhongVu is not just a place to buy computer equipment but a trusted brand where customers can find the latest high-tech gadgets and top of the line service.